You may not have heard of an organization called OFA, aka Organizing for Action, but you soon will. This organization is funded, supported and managed by Obama. We are talking here about a Shadow Government in waiting. Call it the New New Black Panther Party of seditionists with one objective, go after Trump.
From PAUL SPERRY of the 
Yes, Obama has an army of agitators — numbering more than 30,000 — who will fight his Republican successor at every turn of his historic presidency. And Obama will command them from a bunker less than two miles from the White House.
In what's shaping up to be a highly unusual post-presidency, Obama isn't just staying behind in Washington. He's working behind the scenes to set up what will effectively be a shadow government to not only protect his threatened legacy, but to sabotage the incoming administration and its popular "America First" agenda.
He's doing it through a network of leftist nonprofits led by Organizing for Action. Normally you'd expect an organization set up to support a politician and his agenda to close up shop after that candidate leaves office, but not Obama's OFA. Rather, it's gearing up for battle, with a growing war chest and more than 250 offices across the country.
Run by old Obama aides and campaign workers, federal tax records show "nonpartisan" OFA marshals 32,525 volunteers nationwide. Registered as a 501(c)(4), it doesn't have to disclose its donors, but they've been generous. OFA has raised more than $40 million in contributions and grants since evolving from Obama's campaign organization Obama for America in 2013.
Trump has been freely elected time for the non-sequiturs to get over it. A certain part of the population has not accepted the fact that that Hillary Clinton lost. These infantiles are now on a rampage across the country. They are protesting for women' reproductive freedom. protesting for the right of illegal aliens to trample our laws, protesting that the Electoral College must be eliminated, protesting the very fact that police are doing their duty, protesting that ICE has tossed illegals back to the country they came from, protesting that public schools will be turned into charter schools.
That is not all, we have other protesters in Washington D,C. , Senators and Congressman who do not do their job, but have failed in their Constitutional duties to uphold the law. The irony here is that when Obama was elected back in 2008 and again in 2012 we accepted it. We did not protest, we did not break any laws, we did not act like juvenile delinquents. We waited for the Democrats to fall on their own knife and what a pleasure it was.
We suggest that Trump fire the head of the IRS, Koskinen is a criminal; he targeted the TEA PARTY.
Eric Chaffetz is leaving no stone unturned as he purses IRS Commissioner who lied under oath, Koskinen.
The chairman of the top House investigative panel introduced a measure Wednesday to censure IRS Commissioner John Koskinen — and remove him from office without a pension — in the latest bid by Republicans to pressure him into being more cooperative in their probe of the 2013 IRS targeting scandal.
Rep. Jason Chaffetz, head of the House Oversight and Government Reform Committee, is seeking Koskinen's resignation or removal for what he calls an alleged "pattern of conduct inconsistent with the trust and confidence placed in him as an officer of the United States."
If censured, Koskinen, who became commissioner in 2013, would also forfeit his government pension and other federal benefits.
With a revenue neutral IRS Commissioner with a charge of going after 501(c)(4) who put politics above education.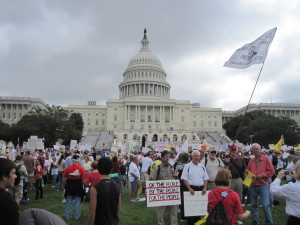 A message to the OFA, "GO AFTER US AND WE WILL GO AFTER YOU."