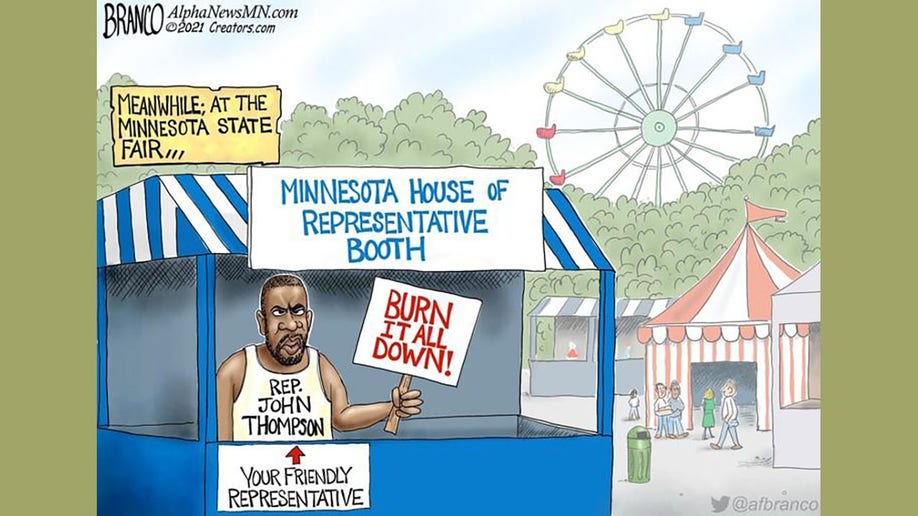 Thompson is married and has three children, including an adult child. He developed a friendship with Philando Castile in 2005 when they worked together at local schools.
In 2009, Thompson was accused of indecently exposing himself to a woman and to two children, though no charges were filed.[11] On July 21, 2021, a Hennepin County jury convicted Thompson for misdemeanor obstruction pertaining to a 2019 disturbance incident at North Memorial Hospital in Robbinsdale, Minnesota.[12] He was given a 30-day stayed sentence to avoid jail time if he did not commit another offense and was also ordered to pay a $200 fine and $78 fee.[13][12]
Traffic stop and residency issue[edit]
In July 2021, a Saint Paul Police Department sergeant conducted a traffic stop of Thompson's vehicle for the lack of a front license plate.[14] After presenting a Wisconsin state identification card, he was also cited for driving with a suspended license.[15] Thompson later stated that he was racially profiled and "got a ticket for driving while black". The traffic stop incident raised questions about Thompson's residency—whether he was a resident of the Minnesota or Wisconsin. Prior to the traffic stop, Thompson had said that he had resided in Saint Paul, Minnesota, for 18 years.[18]
Domestic assault allegations[edit]
In the aftermath of the traffic stop incident, news media reported that three different police departments had investigated a total of five domestic assault cases from 2003 to 2011 allegedly committed by Thompson. Several state officials subsequently called on Thompson to resign from the legislature, including Governor Walz, Lt. Governor Peggy Flanagan, House Speaker Melissa Hortman, House Majority Leader Ryan Winkler, and Democratic-Famer-Labor Party Chair Ken Martin. Thompson denied he had committed assault and said he did not intend to resign.
Dem Candidate Threatens To Burn Down Hugo, MN at BLM Protest: "You Think We Give A Fuck?"
ALPHA NEWS: Footage of Saturday's protest in Hugo, Minnesota captured by Alpha News shows DFL legislative candidate John Thompson beating effigies of Bob Kroll and his wife on their front driveway.
Hundreds of Black Lives Matter protesters gathered outside Kroll's home Saturday to protest his support for the officers involved in the death of George Floyd, whom he believes were fired without due process.
Kroll leads the Minneapolis police union and is a vocal supporter of President Donald Trump, while his wife, Liz Collin, is an anchor for WCCO. Activists have called for both Kroll and Collin to be fired from their jobs.