Fake hate crimes should be treated as hate crimes against the accused group.
Last month, television star Jussie Smollett was treated for scratches on his face after an alleged racist and anti-gay attack in Chicago. Different sources reported different details, but one commonly reported detail was that two suspects asked him, "Aren't you that f***ot Empire n***er?" Then he was supposedly attacked with bleach and a rope. The suspects allegedly yelled, "This is MAGA country!"
In an age of hate hoaxes, many people took this report skeptically. The idea of people in Chicago screaming about "MAGA country" is self-discrediting. Another problem with Mr. Smollett's story was that he was supposedly recognized on the street at two in the morning by racist right-wingers who were also familiar with the show Empire. (I didn't know about the existence of either Empire or Mr. Smollett until the alleged attack, and I assume the same about most people who voted for Trump.) The weapon of choice was also strange for a frigid Chicago night well below bleach's freezing temperature.
The story's details kept changing, but Mr. Smollett's behavior was consistently bizarre. Mr. Smollett reportedly refused to let police examine his phone. He also walked into his apartment building wearing a rope around his neck and didn't notify police immediately. Despite his claim that "I fought the f**k back!" against two attackers, the rather effete Mr. Smollett still managed to hold on to a Subway sandwich he purchased before the alleged incident.
This reads like ludicrous fan fiction. Yet the most powerful and influential people in our society, from the Speaker of the House of Representatives to Hollywood celebrities, declared this attack not only legitimate, but of huge moral importance. What's more, they insisted that the incident must be used to inspire political and cultural activism.
Congresswoman Alexandria Ocasio-Cortez:
Democrat presidential contender and California Senator Kamala Harris:
Speaker Nancy Pelosi:
Presidential candidate Kirsten Gillibrand:
Senator Gillibrand's statement about "condemning this behavior and every person who enables or normalizes it" was echoed by mainstream media outlets, which gave the incident huge coverage.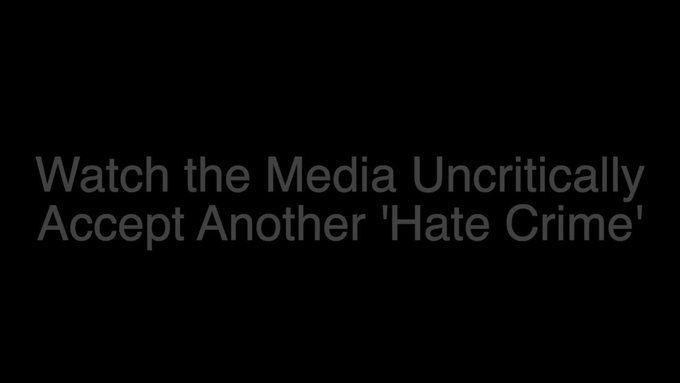 Montage of mainstream media spreading fake news that #JussieSmollett was attacked by white men in MAGA hats.8,9368:12 PM – Feb 16, 20196,801 people are talking about thisTwitter Ads info and privacy
Entertainers exploded with fury against President Donald Trump and his supporters, who were blamed for the "attack." "I want Trump and all MAGA lunatics to burn in Hell," declared actor Billy Eichner. "[T]here is no question that since he [President Trump] has injected his hatred into the American bloodstream, we are less decent, less human, & less loving," tweeted Rob Reiner. "No intolerance! No DT!"
The highlight was a secular sermon by actress Ellen Page on Stephen Colbert's late-night show. The actress delivered an obscenity-laden condemnation of President Trump and Vice President Mike Pence, linking them to the supposed crime and urging people to "connect the dots." The audience gave her a standing ovation, and the video has been seen over 18 million times.
"Civil-rights organizations" dutifully "connected the dots" between the supposed attack and the president from the moment the news broke. The NAACP blamed the president, saying, "The rise in hate crimes is directly linked to President Donald J. Trump's racist and xenophobic rhetoric." The SPLC promoted the attack, especially the supposed cry of "This is MAGA country!" GLAAD declared that "Jussie's experience is sadly not unique in today's America" and expressed concern about "Chicago's Black and LGBTQ communities who may be experiencing heightened fears of violence." One wonders who does not fear violence in Chicago.
President Trump was condemned for not expressing sufficient outrage about the attack. He "has not tweeted about the alleged attack—but has tweeted about caravans and the border wall," wrote Samantha Allen on January 30 in "What 'Empire' Star Jussie Smollett's Attack Reveals About Hate Crime in America." On January 31, the left-wing website Think Progress reported that President Trump and Republicans were "silent…despite 'MAGA' comments." The next day, the president called the alleged attack "horrible" and said "it doesn't get worse." President Trump has never said such a thing about the frequent attacks against his own supporters, including a case over the weekend where a man allegedly pulled a gun on a couple wearing MAGA hats.
The criticism directed against those who doubted the story is a possible reason so many people went along with this laughable tale. Alex Henderson at AlterNet wrote a piece entitled, "Far-right extremists are claiming Jussie Smollett attack is a left-wing hoax." Alex Kaplan at Media Matters complained, "Twitter search suggestions promoted right-wing smear that attack against Jussie Smollett was a hoax." "Is Donald Trump Jr. promoting a Jussie Smollett conspiracy theory?" asked Martha Ross in The Mercury News, calling the president's son "no stranger to promoting questionable stories."
This rhetoric has consequences. The morning after Mr. Smollett received a positive interview on Good Morning America, the Senate passed legislation making lynching a federal crime. Senator Booker specifically referenced the alleged attack on Mr. Smollett to justify the legislation. Black Republican Senator Tim Scott, who has frequently used his race to attack his own party, was among those who introduced the legislation. Thus, even if the supposed crime never happened, it has already been used as an excuse to change American law.
Mr. Smollett's original story has collapsed. It appears that he concocted the assault with the assistance of two Nigerian brothers who knew him before this incident. After being arrested and then released, the Osundairo brothers issued a statement denying any racist or homophobic intent and even denying they are "anti-Trump." The attack was reportedlyconcocted after Mr. Smollett became upset by the scant attention that was aroused by a racist letter sent to the Empire studio. CBS—citing two sources—is now reporting that Mr. Smollett was behind the letter as well. If true, he could be charged with a federal crime.
Those who signal-boosted the original incident are now backtracking. Senator Kamala Harris, who clearly did not have a prepared statement, seemingly panicked when confronted about the issue at a campaign stop. She laughed awkwardly and looked around for help. Cory Booker declared he would "withhold" comment until more information emerged, a notable contrast to his initial reaction. He also continued to blame right-wingers for domestic terrorism. "We know in America that bigoted and biased attacks are on the rise in a serious way," he said, "and we actually know in this country that since 9/11, the majority of terrorist attacks on our soil have been right-wing terrorist attacks—the majority of them white supremacist attacks." Nancy Pelosi has deleted her tweet about the "attack." Meanwhile, Brian Stelter at CNN claimed the mainstream media had been "really careful" in reporting the alleged attack.
In the days following the incident, Mr. Smollett struck a heroic pose. He claimed he was attacked because he is an opponent of President Trump. He said he was initially reluctant to report the incident. Days ago, he said he was "devastated" by reports claiming he had staged the attacks. His lawyers say he has been further "victimized" by all the suspicion. One suspects he may have convinced himself the attack actually happened.
Donald Trump's supporters should be happy that another media offensive against them has collapsed. "Hate crimes that have the structure of perfectly crafted narratives should be regarded with skepticism until they're proven true," writes Kyle Smith at National Review.
However, this advice presupposes journalists are interested in reporting facts. Something deeper is at work. The attention given to a petty crime in a city with hundreds of murders a year, the rapturous reception given to Ellen Page's denunciation of Donald Trump and Mike Pence, and the desperate willingness of so many seemingly intelligent people to believe a ridiculous story suggest semi-religious motivations among Jussie Smollett's true believers. Mr. Smollett's frantic quest to be perceived as a victim of white racist violence is akin to those Christian martyrs who sought death in the arena for a new faith. The main difference is that Christian martyrs actually had to suffer.
If anti-racism is a faith, the devil figure is the hated white male, blamed for every failing, problem, and historical grievance plaguing non-whites. Socialist countries needed "wreckers" to explain why central planning didn't work; anti-racism requires the existence of violent white racists to explain egalitarianism's failures. If there aren't enough real racists out there, they need to be invented. Therefore, Democrats, liberal journalists, and others who believe in the egalitarian myth probably won't learn anything from the Jussie Smollett case. This will happen again. Many Americans desperately want to be a victim of the "oppressor" and so become a person of importance with a life that means something. This is also why wealthy suburban mothers who oppose the president are pretending they are in the French #Resistance or The Handmaid's Tale. After the collapse of traditional Christianity, a new faith has taken power in the West.
Even those who think they are on the Right are in egalitarianism's thrall. S. E. Cupp, one of CNN's anti-Trump "conservative" pundits, argues that the story is "sad no matter your politics." She faults Donald Trump supporters' "giddiness" since the story's predictable disintegration, the phenomenon John Derbyshire calls "Narrative Collapse." S. E. Cupp and others argue that real hate-crime victims are the ones who have been wronged here.
Yet the people who were targeted by Jussie Smollett's actions were white men, especially ones who supported Trump. If Mr. Smollett hadn't been so clumsy in planning in his "attack," innocent white men could have been arrested and blamed or simply named "suspects" and been destroyed by the media. Whites in Chicago and around the country were endangered by these lurid tales of right-wing gangs setting upon innocent blacks. This wasn't simply a false report or a waste of resources—if the latest reports about Jussie Smollett's actions are true, this was a deliberate attack on white people.
It needs to be treated that way. Absent radical change, there will always be motivation for hate hoaxes. There will always be those with a psychological need for the perceived meaning and significance that comes with "victim" status. The material rewards given to "victims," whether through online fundraising or talk-show tributes, are also too strong. Thus, there need to be real consequences.
Donald Trump, Jr. has been tweeting furiously about this case. He should tell his father to do something to stop these kinds of cases. Going forward, a false report of a hate crime should be treated as a hate crime targeting the accused group. Mr. Smollett, liberal journalists, and some Democrat politicians blamed Donald Trump supporters and whites generally for an act that didn't happen. This lie has already been used to push changes to American law, and had it gone unexamined, it would have been used to justify more funding for "diversity" programs and laws that demonize whites.
Jussie Smollett's actions were not just a lie or a false report; they were a racist attack against our people. Worse, this blood libel was repeated by our society's most powerful institutions. We demand more than an apology. We demand #JusticeForJussie.
And here we go again.