Sometimes what you wish for comes true; but the unexpected brings consequences that were not expected. California is feeling the brunt of a wicked cold front in the Sierras. Temperatures have plummeted to all time lows, eleven degrees below zero with killer winds to boot. Interesting to note that the "global change fanatics have not weighed in yet on the early winter storms."
A series of winter storms have dumped large amounts of snow in the Sierra, with some places receiving more than 20 inches. The NWS said another storm could move in by Thursday. A freeze warning was in place in the Sacramento Valley for Sunday. Officials warned residents to protect outdoor plants and pipes.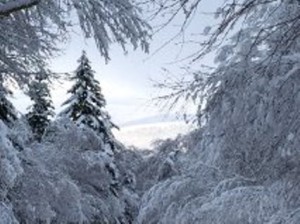 California
Odds are stacked in favor of a wetter, stormier and snowier winter for the southern half of California. The Sierra in general should do much better than the last couple winters, with snowfall amounts normal to above normal. But again, that doesn't mean northern California is in the same boat. My gut feeling is that most of the Tahoe resorts should get close to normal snowfall, which is still a huge improvement.Kirkwood and Mammoth will do quite well.
You've been hearing for months about the El Nino current in the Pacific Ocean. Scientists now say the ocean temperatures there are the warmest on record. One forecaster has even predicted a Godzilla El Nino, dumping large amounts of rain and snow. Well, in California's Sierra Nevada range, it's looking like the El Nino is materializing. The mountains are getting some badly-needed snow. In some places, snow pack is more than 300 percent higher than average.
Click here for North America's number One rated ski resort, Whistler Blackcomb