The inevitable accolades are coming in; Chris Christie, has with great fanfare, endorsed Donald Trump. A surprise for sure, but most politicians know when to get on board.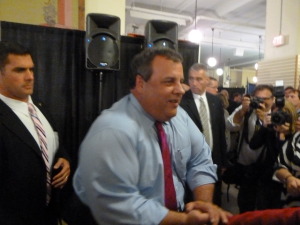 Christie did not waste any time hopping on a winner. This endorsement is larger than Christie's girth. Forget for a moment the previous debate, what is now important now is that a mainline Republican has come out with the endorsement; obviously Christie believes Trump to be the eventual nominee.
Many Republicans will hold their nose, but it doesn't matter. Because what will happen is the crossover vote. Remember, Trump will vacuum Democrat votes  from those whose persuasion is "middle of the road."
Sanders and Clinton are catering to the progressive ideologues who no doubt are far removed from the mainstream. Tuesday will be make or break for Cruz, Rubio, Carter and Kasich.  Keep your eyes on the prize.