The despicable Bobble Head  is running away from the skeletons that have gathered in her closet, (click here for her latest fall)running away from the ghosts that continue to haunt her, running away from the defeats suffered in the political arena; first by a Johnny Come Lately, then by a an alleged misogynist who's brash statements curried favor with the electorate.
Her latest FALL from grace took her to India; trying to jump start her book tour which has imploded she again revealed another theory for her devastating loss. It was WHITE WOMEN whose minds were forcibly corrupted to vote for a White man. Of course no one, not even her husband, Slick Willie, believes in these excuses.

She lost because she is a looser – pure and simple.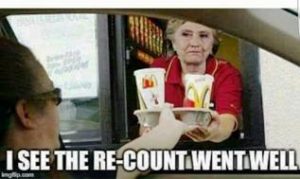 Democrats "do not do well with white men, and we don't do well with married, white women," she said. "And part of that is an identification with the Republican Party and a sort of ongoing pressure to vote the way that your husband, your boss, your son, whoever, believes you should."
BY THE WAY, CNN DID NOT SHOW THE VIDEO OF HILLARY TAKING A FALL