The accusations are flying back and forth, the blame game is ramping up, truth is whatever they say it is, to survive now requires mutilation, a self inflicted wound. Who will be the first to cut off their leg. Spit for Spat, he said – she said, at this point Comey, Brennan and Clapper are throwing bombs at each other. This is a dangerous game the are playing; all three may be swinging and singing the Jail House Rock.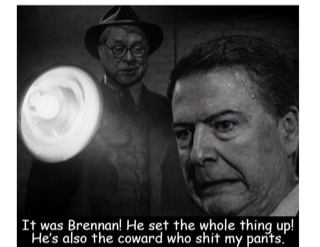 What are these treasonous criminals afraid of? Well, Trump has an AG who came out with guns blazing. No shotgun approach here, only dead aim. His appointment of Bull Durham has sent shock waves through the intelligence community. Durham's job is to get to the genesis of the FISA warrant. Who lied, when and why.
NOT A PRETTY PICTURE IF YOU ARE A DEMOCRAT.