Nothing is truer than that. The computer geeks who rule California know all to well the truth to the above statement. Well with the likes of Dr. Moonbeam who ruled the roost on and off for 16 years, plus 4 more as attorney general, what else would you expect. Governor Newsom for that matter. Two birds of a feather flock together.
Fires everywhere, burning not only scrub, but peoples lives to the ground, are not only the fault of the power company, they are directly related to the dereliction of duty of the politicians. Fires aren't the only thing that has afflicted California; cities like LA and San Francisco have had to deal with thousands upon thousands of itinerants who defecate wherever they see put. Trump warns that Federal Funds will be pulled.
New laws have been passed that have handcuffed the police. Anyone caught stealing goods with a value less than $950 cannot be arrested, thanks to Proposition 47. Gangs have looted shops throughout California, the stolen goods are exchanged for cash to professional fences that have camped out to on the public square. Shopkeepers have no defense except to shut down their businesses.
California knows how to treat their taxpayers.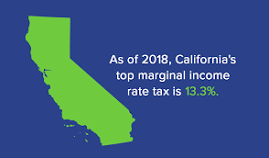 The Democrat controlled legislature has never seen a tax they didn't like. Californians pay the highest income tax in the country. Need we tell you more? Gangs run rampant in the major cities. Incarceration is a recruiting ground where gang activity prevails. Police fear to tread on their turf.