Wuhan Coronavirus leashed for economic reasons says General Jack Keane.
HONG KONG TAKEOVER IS THE BEGINNING OF THE END WITH OUR RELATIONSHIP WITH CHINA.
China has now professed a violent takeover of Taiwan.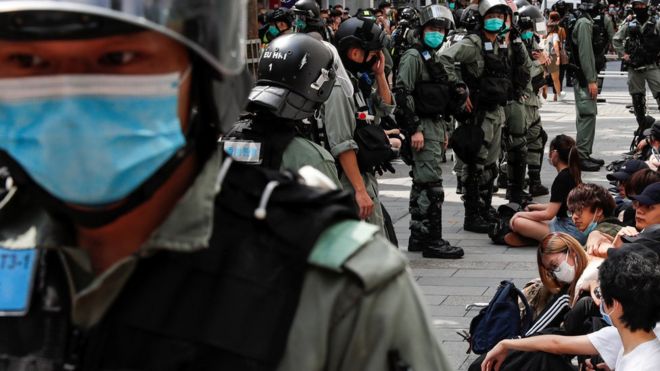 China is facing mounting criticism over a planned security law for Hong Kong which would make it a crime to undermine Beijing's authority in the territory.
The UK and US said at a private session of the UN Security Council that the law would curtail the city's freedoms.
China, which blocked a formal meeting, warned them to "stop interfering".
Hong Kong's autonomy is guaranteed by the 1997 agreement under which it was returned to China from the UK.
It enjoys some freedoms – of the press and association – unseen in mainland China.
But there are fears the proposed law – which has sparked a wave of anti-mainland protests – could end Hong Kong's unique status.
This week, Britain said that if China went forward with the law, it could offer British National (Overseas) passport holders a path to UK citizenship.
There are 350,000 BNO passport holders in Hong Kong who currently have the right to visit the UK for up to six months without a visa.
On Friday, the UK Home Office confirmed the new rights could be given to up to three million people with BNO status – as long as they applied for and were granted a passport.
China says all BNO passport holders are Chinese nationals, and if the UK changes this practice, it would violate international law.
Australia, Canada and the EU have also criticised the security law and its implications for Hong Kong.
Taiwan's parliament has backed a plan to offer sanctuary to people who want to flee Hong Kong, but China – which considers Taiwan to be part of its own territory – has warned the island not to get involved.
On Friday, Chinese Foreign Ministry spokesperson Zhao Lijian urged other countries to stop interfering in the matter.
"We will take necessary measures to resolutely counter the wrong acts of external forces interfering in Hong Kong affairs", he said.
What might the US do?
On Wednesday, US Secretary of State Mike Pompeo told Congress that Hong Kong no longer merited special treatment under US law, potentially paving the way for it to be stripped of trading privileges such as lower tariffs than mainland China.
US media reports that President Trump is considering a range of sanctions. These could include strong measures such as stripping Hong Kong of its trading privileges or milder options such as restricting visas and freezing the assets of Chinese officials.
He is expected to make an announcement later on Friday.
The EU has warned that imposing sanctions would not solve the crisis.
"Our relationship with China is based on mutual respect and trust… but this decision calls this into question and I think that we have to raise the issue in our continued dialogue with China", EU High Representative for Foreign Affairs Josep Borrell said after talks with foreign ministers on Friday.
The post below is from January 2019
CHINA PUTS ON THEIR WAR FACE
THENEWBOSTONTEAPARTYLEAVE A COMMENTEDIT
China's megalomaniac leader Xi Jinping is on the brink of a fight; he believes in Chinese hegemony the world over. His modus operandi begins by starting a small skirmish and then draw in the adversary which in turn will escalate into something bigger, maybe a fission type of fight.
Beijing has criticised the 2016 international court's stinging rejection of its territorial claims in the South China Sea, with Communist party-controlled newspapers warning of a military escalation in response to what they denounced as a US ploy to thwart China's rise. 
So far his actions are minor probes, but in due time expect more than a dry run, a major provocation will cause an encounter drawing in more powerful forces. The coming fight will test U.S. resolve on Taiwan. But expect warfare in the Pacific too. Lately China has buzzed on purpose a U.S Destroyer part of the Pacific fleet, coming close to a collision.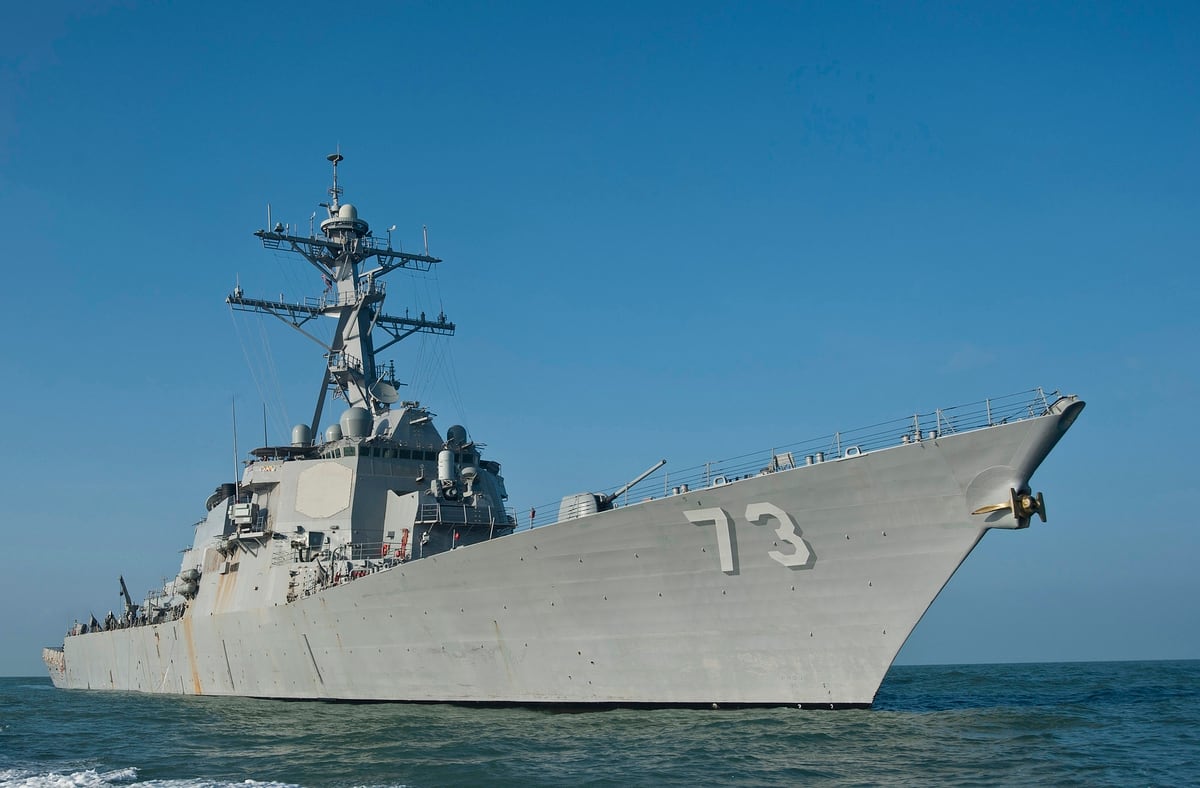 In a written statement emailed to Navy Times, Pacific Fleet officials say that a Luyang-class destroyer closed on the Decatur around 8:30 a.m. local time Sunday October 2, 2018 in "an unsafe and unprofessional" manner near Gaven Reef, making a series of "increasingly aggressive maneuvers" that were accompanied by warnings for the Decatur to leave the area.
The Chinese vessel came within 45 yards of the Decatur's bow before the American warship veered off to prevent a collision, officials said.
China though is deploying loans the world over. For instance they have their hands in a multitude of Latin American countries lending them scarce funds with tough restrictions. This is causing some strife among the borrowers.
For the five-year period between 2015 and 2019, China's President Xi Jinping set ambitious goals for exchange with the Latin American and Caribbean region (LAC): $500 billion in trade and $250 billion in direct investment. The pledge was made in January 2015 at the first ministerial meeting of the Forum of China and the Community of Latin American and Caribbean States, which was held in Beijing. Although it remains to be seen if this degree of integration can be achieved, the investment target is certainly plausible, as China is likely to emerge in the next few years as the world's largest supplier of capital.
However, some Latin American countries are fighting back. A few decades ago Russia owned Egypt, but were given the boot by Anwar el-Sadat.
CAIRO: President Anwar el‐Sadat's expulsion Russian military advisers from Egypt is probably the most severe defeat the Soviet Union has suf fered since it began to buy friends and influence nations in the non‐Communist Third World. happened because the Soviets could no longer camouflage the basic ambivalence of their policy— their posture as Egypt's stanchest advocate against Israel and their simultaneous quest for more salu brious relations with the United States.
Why Sadat packed off the Russians
The Russians also stumbled because they never really understood the Egyptian—or the Arab—mind, at once so beguiling and so maddening. Arabs can be bribed, but never bought; they can be bullied, but never bound; they can be fervent, but not always faithful. The Russians thought they had squeezed Sadat into a narrow corner of obeisance where he would be obliged to do their bidding until they were ready to replace him with someone more to their taste. How sadly they misjudged him, and how astonished they must have been when they woke up that morning in mid‐July to receive his order to pack their bags.

Over the past decade, China has become a leading lender and builder of infrastructure projects in the developing world. With extraordinarily high savings and a declining investment rate at home, China has reached out to invest in a diverse array of infrastructure projects from West Africa to the Amazon. One of the major drivers of the infrastructure investment is the Belt and Road initiative (BRI). Launched in 2013 by President Xi Jinping as One Belt One Road (OBOR), the initiative has increased in funding (aiming at US$1 trillion) and expanded in scope, now including projects in over 70 nations. This investment abroad constitutes an ambitious foreign policy, and one with deep geopolitical implications.

Thanks to Beijing's loans, Chinese corporations are building dams and hydroelectric power plants in the Amazon and Patagonia. They are laying thousands of kilometers in rail tracks to reduce freight transportation costs and connect populations in Brazil, Peru, and Venezuela. China's development banks are even financing a state-of-the-art nuclear energy plant in Argentina. In what has become the most ambitious civil engineering project in recent decades (although one plagued with challenges and uncertainties), a Hong Kong-based billionaire has been granted the authority to build a canal through Nicaragua, connecting the Pacific and Atlantic oceans to compete against the Panama Canal.
Due to the novelty of the ventures, investing in infrastructure in LAC poses an important learning opportunity for Chinese firms, which have not responded adequately to local culture and regulations. We find that most projects in LAC have faced local backlash because of environmental concerns about pollution and harm to residents and livelihoods. For example, there have been concerns about the environmental impact of Sinopec's oil refineries in Moín, Costa Rica (the National Secretary of the Environment objected to the first evaluation for serious omissions) and in the Yasuní National Park, Ecuador (800,000 people signed a petition before the national government to stop the works.) The beginning of the construction of the Condor Cliff and La Barrancosa hydroelectric dams in Santa Cruz, Argentina, without an environmental impact assessment, led to the Argentine Supreme Court ordering the suspension of the projects. In some cases, local courts intervened, with negative effects on the viability of the projects and the economic standing of the firms.
Labour issues have also arisen, as firms have tended to hire Chinese nationals rather than local workers, especially in management and high-skill positions. Companies should increase the share of local-born workers, technicians, and executives to plan, design, build, and manage projects.
Bottom line here, if China moves too fast for the locals, expects the NATIVES to get restless. Once this happens all hell would break loose. Then the World would see if China has the cajones to enforce their agreements.
Expect the Pacific waters to heat up. Question occurs though, on who will blink first, Xi or Trump.
FROM THE WASHINGTON EXAMINER
In a highly aggressive editorial on Thursday, Chinese state media taunted the U.S. with nuclear weapons, threatened U.S. aircraft carriers, and called for preparations to invade Taiwan. The editorial reflects growing Chinese nationalist fury in the face of Trump administration pressure.
In a highly aggressive editorial on Thursday, Chinese state media taunted the U.S. with nuclear weapons, threatened U.S. aircraft carriers, and called for preparations to invade Taiwan. The editorial reflects growing Chinese nationalist fury in the face of Trump administration pressure.
Offered up by the Global Times newspaper, a mouthpiece for the hard nationalists, the editorial didn't pull any punches. To consider what it means for the U.S., let's consider each element in turn. First up, the nuclear taunt:
The year 2019 marks the 70th anniversary of the founding of the People's Republic of China. We look forward to seeing the public debut of Chinese deterrence's trump card, the Dongfeng-41 intercontinental ballistic missile.AD MAGA list: 205 'historic results' help Trump make case for 2020 re-electionWatch Full Screen to Skip Ads

This is a not-so-subtle signal that the Dongfeng-41 will be shown in public at a military parade later this year. But note the "trump card" language. A personal rebuke of President Trump, it's a sign of Beijing's growing frustration that the president won't accept an easy deal to end the current U.S.-China trade war. But back to the nuclear weapon issue. While the Dongfeng-41 is an impressive nuclear intercontinental ballistic missile platform, it will not fundamentally alter the nuclear balance of power against the U.S. Instead, the mobile system is designed to strengthen China's ability to threaten the U.S. up the escalation curve. In tandem with other capabilities in cyberspace, in space, and with conventional long-range missiles, China is showing it intends to pose a growing threat across the spectrum of warfare. The U.S. must pursue and posture greater capability to deter China.
Next up is the Global Times' aircraft carrier threat.
China should carry out more maritime combat exercises with live ammunition, especially training to strike aircraft carriers. There is no need to worry that doing so would make Washington unhappy. Making them concerned is the whole point of the exercise.

This is not terribly surprising. China has a powerful conventional ballistic missile capability across short, medium, and long ranges. It is also developing hypersonic missiles of the kind recently mastered by Russia. The import of these threats is in restricting where and how the U.S. Navy can operate aircraft carriers. But what's most interesting here is the specific Chinese focus on "making [Washington]" upset." This reflects a Chinese nudge into the ongoing U.S. debate over whether it would ever attempt to destroy a U.S. aircraft carrier in battle. Some believe that China would not do so in fear of meeting a massive U.S. response. I'm less sure about that.
That leaves us with the threat to Taiwan.
To promote peaceful reunification, the People's Liberation Army should also carry out more preparations to respond to a military crisis across the Taiwan Straits, formulate various plans such as a military blockade around the island, destroying military facilities there and preventing external military interventions, which can be disclosed to the outside world appropriately when necessary.

Note the absurd Orwellian-language here: "[T]o promote peaceful reunification," carry out attack preparations. It sums up the nature of Chinese President Xi Jinping's regime. Still, Xi views the subjugation of Taiwan to Chinese rule as of paramount importance to his legacy. And the Chinese president is certainly making increased references to what he says is Taiwan's inevitable return to Beijing. Yet, in the context of next year's 70th anniversary of China's captureof Hainan Island from the nationalists, and Taiwan's upcoming 2020 general election, China's military threats to Taiwan must take on more attention.
Ultimately, this editorial is another warning for the U.S. — a warning that challenging China's island imperialism and its feudal economic strategy is only going to become more complicated. And while growing allied support for U.S. actions in the Indo-Pacific are positive, in the end, China will only be deterred by America. We must seek a more constructive relationship and resist China's defining challenge.