FROM BLOOMBERG NEWS
North Korean leader Kim Jong Un attended the opening of a fertilizer factory on May Day, according to state media, in his first public appearance since a flurry of media reports in April prompted questions about his health.
Kim cut the ribbon to denote the completion of the Sunchon Phosphatic Fertilizer Factory, the official Korean Central News Agency reported Saturday. The report didn't initially provide any photos of the event.
The Burial Train waits patiently for the corpse, will one be loaded into the morbid chamber that awaits. Has Kim Jong Un finally met death, not by the gun, but by the gummie. A quite charismatic leader who frolics in the limelight, over indulges in the sweetness of consumption – gummie bears are his favorite. Did he get the short end of the stick?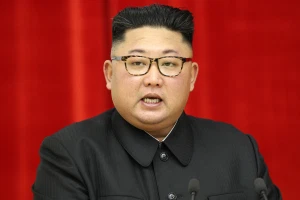 Rumors that the bulky leader of the Hermit Kingdom has succumbed to his perverse way of life; always feasting on the best of Scotch, Ice Cream, beer, steak and other Western goodies, WHILE THE POPULACE STARVES – did over indulgence finally compromise his health?
Rumors are swirling. Some say he is suffered a cardiac infarction that caused blood flow to his brain to cease for untold minutes; has the corpse laid in the hospital, brain dead for the past two weeks? Are the leaders doing their best to commemorate his death by breaking the news slowly to the populace? They have been huddling in meetings while hunkering down just in case he took his last breath. Are they making plans for the burial train to make its journey to the capital?
Show is important here. How to break the sorry news to the in-crowd – making sure it is carefully crafted. Questions now arise on who will step in to fill his shoes. Will it be his sister or will they shun her and choose another coiffured fatso? Is he dead? The world awaits his coming out party.
With rumors swirling about North Korean leader Kim Jong Un, a state-run newspaper tried to prove the despot is alive and well by reporting that he has sent a thank-you letter to builders in a seaside resort.
The Rodong Sinmun outlet claimed Monday that Kim penned the message to builders working on a tourism project in Wonsan, where South Korea believes the leader has been staying since April 13, according to South Korea's Yonhap News Agency.
"Supreme Leader Kim Jong Un has sent his appreciation to the workers who devoted themselves to building the Wonsan-Kalma tourist zone," the Rodong Sinmun reported.
The Korean Central Broadcasting Station made a similar report, according to Yonhap.