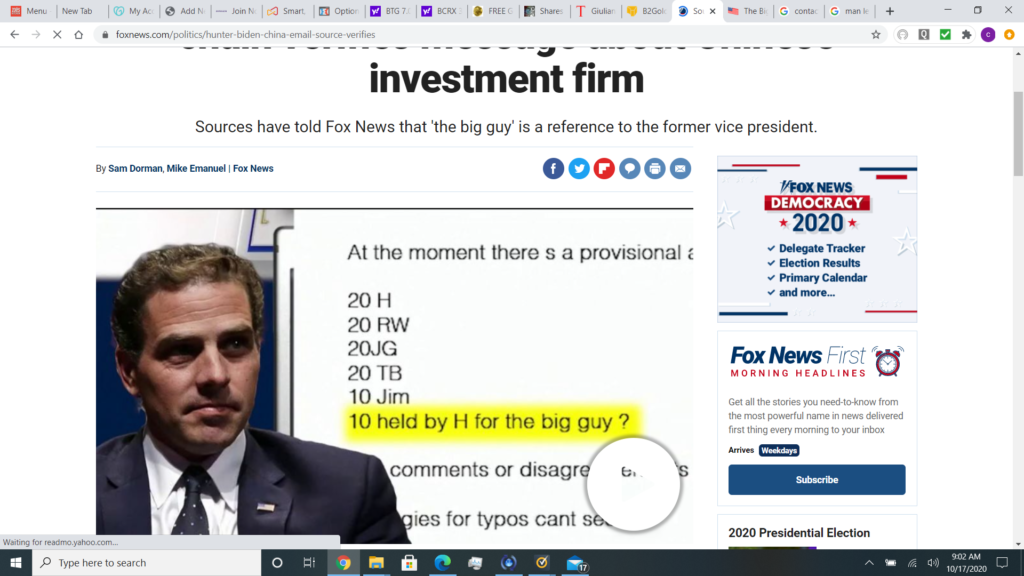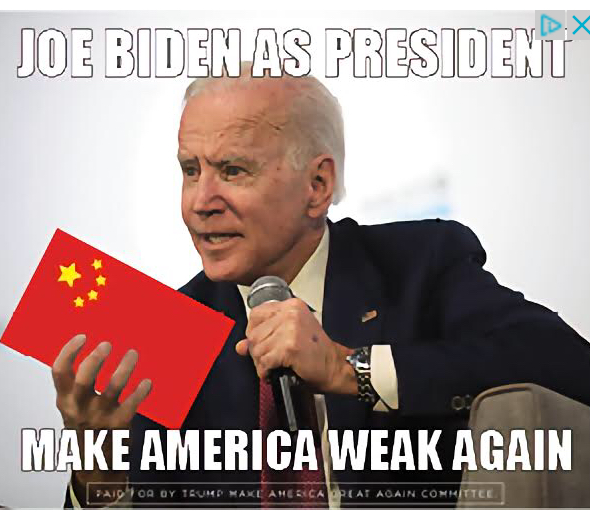 What are the Bidens accused of in China?
The New York Post also cited a purported email from Hunter Biden indicating that he was receiving a $10m annual fee from a Chinese billionaire for "introductions alone", though it is unclear who was involved in the alleged introductions.
Hunter flew in 2013 aboard Air Force Two with his father, who was US vice-president, on an official visit to Beijing, where the younger Biden met investment banker Jonathan Li.
Hunter told the New Yorker he just met Mr Li for "a cup of coffee", but 12 days after the trip a private equity fund, BHR Partners, was approved by the Chinese authorities. Mr Li was chief executive and Hunter was a board member. He would hold a 10% stake.
BHR is backed by some of China's largest state banks and by local governments, according to US media.
Hunter Biden's lawyer said he had joined the board in an unpaid position "based on his interest in seeking ways to bring Chinese capital to international markets".
His lawyer also said his client did not acquire his financial stake in BHR until 2017, after his father had left office in the US.
Hunter resigned from the board of BHR in April 2020, but still held his 10% stake in BHR as of July this year, according to the company report.
0ne example of such was a video clip posted to C-SPAN's website on Sept. 21, 2019 under the title "Joe Biden Confesses to Bribery." The video was accompanied by a caption reading "Former Vice President Joe Biden confesses to being in charge of Ukraine for the Obama Administration, and withholding $1 billion in loan guarantees from the USA to force Ukraine to fire prosecutor who was looking into the company that Hunter Biden was receiving $83,000+ PER MONTH from":
So they said they had — they were walking out to a press conference. I said, nah, I'm not going to — or, we're not going to give you the billion dollars. They said, you have no authority. You're not the president. The president said — I said, call him. I said, I'm telling you, you're not getting the billion dollars. I said, you're not getting the billion. I'm going to be leaving here in, I think it was about six hours. I looked at them and said: I'm leaving in six hours. If the prosecutor is not fired, you're not getting the money. Well, son of a bitch. (Laughter.) He got fired. And they put in place someone who was solid at the time.
Hillary Clinton sold out the United States for millions of dollars.
ut the circumstantial evidence is pretty strong. Here are some of the highlights:
Douglas Band, the Clinton Foundation's top executive, asked the state department if Clinton could meet with "our good friend" Bahraini Crown Prince Sheikh Salman. Salman, who had given the foundation $32 million, met with Clinton. Clinton later approved a $630 million arms sale to Bahrain, according to the International Business Times.
A Ukrainian magnate named Victor Pinchuk gave the Clinton Foundation between $10 million and $25 million. While Clinton was secretary of state, her aides set up "about a dozen meetings with State Department officials on behalf of or with Mr. Pinchuk to discuss the continuing political crisis in continuing political crisis in Ukraine," according to the New York Times.
In 2009, Band told Clinton aide Huma Abedin to secure a meeting for a Lebanese billionaire who had also given millions to the foundation. That donor, Ronald Chagoury, controlled a development in Lagos where the State Department was considering constructing a consulate, according to CNN. (The consulate wasn't built.)
S. Daniel Abraham, a billionaire who gave up to $10 million to the Clinton Foundation, was also granted access to meet with Clinton, according to the released emails. (Abraham is also the head of the Center for Middle East Peace.)
A top Clinton Foundation executive left about 150 voicemails for state department aide Cheryl Mills over the course of two years, according to call logs obtained by Fox News.
While secretary of state, Clinton met with at least 85 donors who had given the foundation as much as $156 million, according to the Associated Press. And that's just the ones we know about. (As the AP has pointed out, the State Department is stonewalling the release of Clinton's schedule — meaning we probably only know a fraction of the actual meetings she held with donors.)
Again, you don't have to think Clinton is corrupt to think she was probably more likely to meet with people in her family's orbit. And you don't have to be a conspiracy theorist to think it'd be easier to be in her orbit by giving buckets of cash to her family's charity.
"There's no doubt in anyone's mind that a large number of the Clinton Foundation donors who met with her gave partly to get access to the Clintons," says William English, a professor of ethics, economics, and public policy at Georgetown University. "It looks essentially like a nonprofit that has the conspicuous benefit of being a great place where people can get access to Clinton and her staff."