BIG RALLY, TRUMP HEADING TO GEORGIA ON JANUARY 4, 2021 FOR THE MOTHER OF ALL RALLIES. ELECTING LOEFFLER AND PERDUE WILL SETTLE THE "STOP THE STEAL" SCORE FOR THE NEXT FOUR YEARS. AND IN TWO YEARS WE WILL SECURE THE HOUSE AND IN FOUR YEARS THE SECOND TERM FOR PRESIDENT TRUMP.
"BRING IT ON" SLIME DOGS. YOU WANT BLOOD, WE WILL BRING YOU BLOOD
Georgia is at a crossroads, are they a United State of are they a reactionary panderer to Muslim Extremists. Louis Farrakhan has now given his blessing to the two most progressive socialists ever to run on the face of the earth.
Warnock, Ossoff to appear at event with Farrakhan supporter. Democratic Senate candidates Jon Ossoff and Rev. Raphael Warnock are expected to appear at a get-out-the-vote event in Georgia on Sunday with a panelist who last year presented controversial Nation of Islam leader Louis Farrakhan with an honorary membership into his fraternity.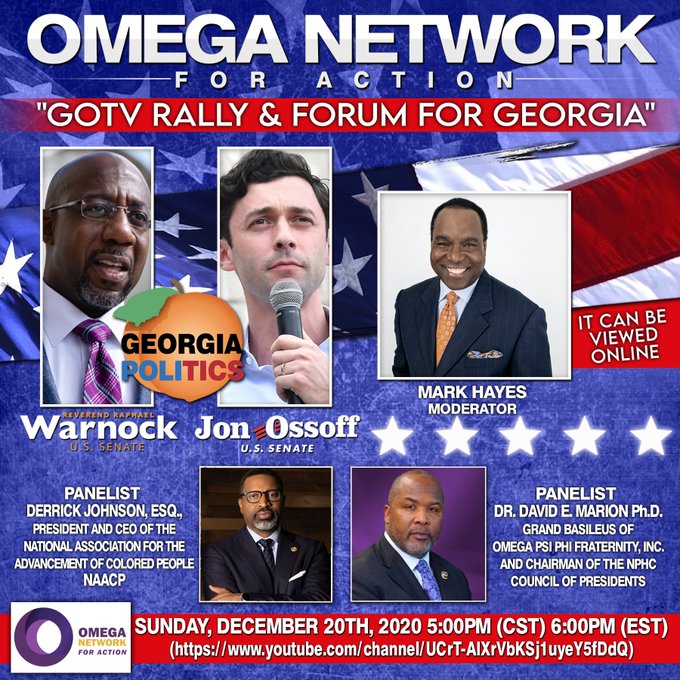 Raphael Warnock hosted Jeremiah Wright as guest preacher in 2014
Flyer advertised Wright's appearance at Ebenezer Baptist Church on Sept. 10, 2014
"Not God bless America; God damn America," Wright said at the time. "That's in the Bible, for killing innocent people. God damn America, for treating her citizens as less than human. God damn America as long as she tries to act like she is God and she is supreme."
"Not only did Raphael Warnock praise Jeremiah Wright's 'God Damn America' sermon, he thought it was so great that he invited him to Ebenezer Baptist to deliver it," Loeffler's communications director, Stephen Lawson, told Fox News Thursday night. "Does Georgia really want a U.S. senator who thinks God should damn America?"
Almost as soon as it became clear that control of the U.S. Senate would be decided by two runoff elections in Georgia, scrutiny landed on the Israel record of Raphael Warnock, the Democrat seeking to unseat Republican Sen. Kelly Loeffler.
"Raphael Warnock signed letter likening West Bank to apartheid South Africa," Jewish Insider reported. On Monday, Nov. 9, Loeffler amplified that sermon on Twitter, accusing Warnock of having "a long history of anti-Israel extremism."
Georgia will be the center of the American political universe. The runoff elections for two U.S. Senate seats that will be held on Jan. 5 will determine control of the Senate. In the two races, incumbent Republican Senators David Perdue and Kelly Loeffler will be facing off against Democratic challengers Joel Ossoff and Warnock.
The stakes involved in the outcome of these two elections couldn't be higher.
The current tally in the Senate after the dust settled from the Nov. 3 election is that Republicans hold 50 seats and the Democrats 48. That means that if Ossoff, who is Jewish, and Warnock, an African-American clergyman who is the senior pastor at Atlanta's Ebenezer Baptist Church—the pulpit once held by Dr. Martin Luther King Jr.—both win, the tie will be broken by Vice President-elect Kamala Harris, giving the Democrats a majority in both Houses of Congress, as well as the White House with Joe Biden poised to become president in January.
How can the Jewish Voters, not only in Georgia, but the United States continue to show their allegiance to the Democrat Party of Jew Haters and Israel Bashers. It is beyond our comprehension. A vote for Ossoff is a vote for Louis Farrakhan.
The Jewish community should understand that groups such as BLM and the Nation of Islam are out to destroy every Jew, not only in this country but in the world as a whole. Wise up Jewish Voters; cast your vote for Kelly Loeffler and David Perdue; they will protect your heritage, not destroy it. Both are friends of Israel.