Yeah, the year hasn't started yet and TNBTP is giving out awards. One individual deserves our special attention. This Windbag shared the stage with President Trump nodding his approval on what The Donald was saying. But wait a moment, he didn't agree with him most of the time? So then why didn't he just quit, like any person dressed down in front of the world? "STUPID IS STUPID," So Fredo took once, then twice, then thrice. "But I'm smart too."
Now he is digging the Stupid Hole deeper. Must have suicide instincts. Do you believe he want everyone to wear one mask over another. We don't have to tell you the joke about brown bags, but your get our gist here.
Dr. Fauci: Double-masking makes 'common sense' and is likely more effective
Published Mon, Jan 25 202110:43 AM EST Updated Mon, Jan 25 20215:47 PM EST
Cory Stieg@CORYSTIEG SHARE Share Article via Facebook Share Article via Twitter Share Article via LinkedIn
Could wearing two face masks at once during the pandemic provide more protection than just wearing one? According to White House advisor Dr. Anthony Fauci, "it likely does," he told NBC News' TODAY on Monday.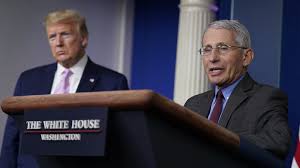 "People are tired of Covid," the president said. "People are tired of hearing Fauci and all these idiots." Whenever Dr. Fauci does a TV interview, the president said it is a "bomb," but that it is a "bigger bomb if you fire him."