Child discipline is universal. Without it a child will either get killed or be ravaged by others who prey on them. For example, child resistant electrical outlets. Imagine if they didn't exist, a curious child could push a hairpin into the slot and be electrocuted in milliseconds. Like a lion trainer, bounds must be set before you let "youngn's" loose. If no discipline there would be anarchy. And this scenario is playing out today in all places America.
Certain segments of the population have gone to war over past indignities. Right or wrong is not the question, it is how they go about it. And they, you know who we are referring too here; political rabble rousers (Obama), gang bangers, anarchists, BLM and ANTIFA types plus members of Congress, such as the suicide bomber squad. City and country trashing would have no place in China. Tiananmen Square taught the populace a stark lesson; don't challenge the government. But here in the good old USA, the perverted minds of those who have been brainwashed believing they are victims of one thing or another, now it is White Supremacy, White Privilege are on the warpath.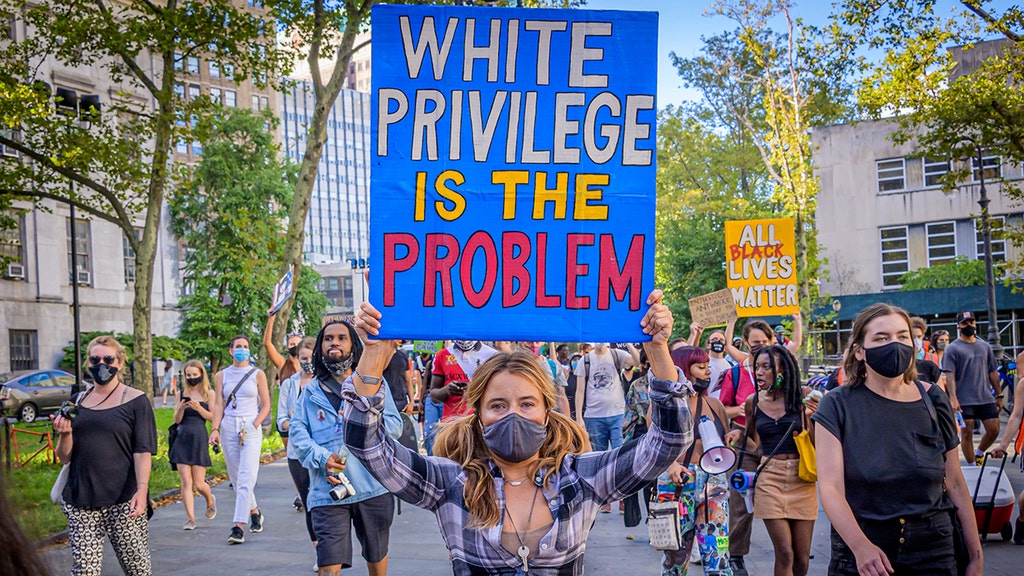 UK politician says 'white privilege' divisive, unhelpful term: report.
A U.K. politician and member of the nation's equality watchdog is warning that the term "white privilege" was divisive and contributed to an "unhelpful way of looking at society. "The Sunday Telegraph reported that Falkner, who serves in the House of Lords, preferred civics lessons over (click)"fretting about one group versus another."
You see where we are going here, if the government doesn't take a hard stance now, we will have the civil war that they want. And if this scenario plays out like it did in the many countries of the world, for instance, South Africa, don't expect Joe the Blow to put a stop to it. It only takes one match to burn a country down. We give you the George Floyd protests as a result. Heritage statutes have been toppled; a Black National Anthem is in the cards. Imagine that! Right now our country, if it was a plane, is in a wicked tailspin. We need a man to step up, grab the yoke, pull on it hard, level the aircraft and roll to the right. It is imperative to do this soon before we suffer a major crash.
The dynamic situation now taking place in Cuba, where citizens are demanding their right of congregation and free speech, have met the heavy hand of the communist regime.
President Biden is considering augmenting staffing levels at the U.S. embassy in Havana and forming a group to deliver remittances to the Cuban people, a senior administration official told FOX News on Monday.
"On July 11, the world watched as tens of thousands of Cuban citizens marched through Havana and cities across Cuba bravely asserting their fundamental and universal rights and demanding freedom and relief from the oppression of Cuba's authoritarian regime," the senior administration official said. "The Biden-Harris administration has and will continue to stand with the Cuban people."
The president is directing the government to actively pursue measures to support the Cuban people and hold the regime in power responsible, the official said.
But, AOC's Cuba tweet draws fiery response from Florida Dem
"We also must name the U.S contribution to Cuban suffering: our sixty-year-old embargo," Rep. Alexandria Ocasio-Cortez tweeted.
Former Florida congresswoman Debbie Mucarsel-Powell publicly chastised the New York congresswoman's position on Twitter, pointing to "failed policies of a communist regime that has violated human rights, imprisoned & killed dissidents."
"This is a matter of national security. The US must act," Mucarsel-Powell tweeted.
The starkly differing positions exemplify a split between progressive and moderate Democrats on the Cuban embargo. Ocasio-Cortez has risen to prominence in the House as part of a progressive coalition. Mucarsel-Powell, who has been advising House Speaker Nancy Pelosi on Cuba policy, was ousted from her heavily Latino South Florida district in 2020, when Hispanic voters broke hard for Republicans as they pounded Democrats for being socialists. While Miami Democrats ran from the term, Ocasio-Cortez has aligned with Democratic socialists.