So where is Joe Biden? Numbnuts
was last seen leaving the scene of an insurrection; dereliction of duty we say. A CLOWN FOR A PRESIDENT WHO FALLS DOWN LIKE THE TOWN DRUNK,
CHECK THE METAPHOR FOR THE BIDEN ADMINISTRATION HERE. WATCH HILLARY CLINTON COLLAPSE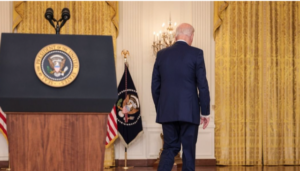 President Biden took (CLICK)major hits this week, from the Pentagon confirming that a "tragic mistake" led to 10 civilians in Afghanistan dying in a drone strike, to the Food and Drug Administration rejecting his vaccine booster proposal, with much of the news breaking as the president headed to the beach for vacation. 
"So the U.S. drone strike did NOT kill any ISIS-K but did kill 10 innocent civilians, including 7 children. Unbelievable. The Biden administration is a sad, tragic mess and an utter embarrassment on the world stage!," Trump-era White House press secretary and Fox News contributor Kayleigh McEnany tweeted on Friday.
WE WERE WARNED
CIA warned US military of children's presence as drone strike hit Kabul
(COPY&PASTE)

https://www.jpost.com/international/cia-warned-us-military-of-childrens-presence-as-drone-strike-hit-kabul-679768
Pentagon admits drone strike killed civilians
U.S. Marine Corps Gen. Kenneth McKenzie, commander of U.S. Central Command, told reporters on Friday that an Aug. 29 drone strike targeting ISIS actually killed 10 civilians in