China Joe takes it all in;

not a word came out of his mouth because it was stuffed with Chinese threats. (click)What caused Joe to go knee?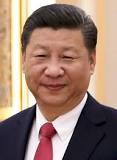 So, we have seen this "GIRLY MAN" cave on the Afghanistan pullout leading to the death of 13 brave soldiers, pulled troops from our border where hundreds, if not millions of Covid-19 are spreading all kinds of diseases, gone woke under threats from the BLM and believes killing babies is the right of every woman.
Remember this at election time that Joe Biden licked the boots of Xi after Xi killed 750 thousand in the United States and more than 5 million plus  worldwide. There is no doubt that the China virus originated from the Wuhan Lab. Hidden from the rest of the world by the WHO sickos and the CCP. They are responsible for the greatest mass murder ever and must be held accountable by the World Court.
TRUMP WOULD NOT HAVE RELEASED MENG. NO WAY WOULD HE CAVE TO THE CHINESE COMMUNISTS LIKEYELLOW PANTS BIDEN. TRUMP IS AMERICA, BIDEN IS A PROLIFIC LIAR; HE IS WORSE THAN DIRT. DON'T FORGET IT WHEN YOU GO TO THE POLLS. ASK YOURSELF, WOULD TRUMP ALLOW YOUR SON OR DAUGHTER TO BE MASSACRED?
YOUR FRIENDS ARE IN THE REPUBLICAN PARTY, YOUR ENEMIES ARE IN THE OTHER PARTY.
Hong Kong (CNN Business)Huawei executive Meng Wanzhou, who spent nearly three years in house arrest in Canada, returned home late Saturday, ending a prolonged extradition fight with the United States and sparking an outburst of national pride in China, where her release has been portrayed as a diplomatic victory for Beijing. The truth is that Biden has no ballz. Never did, never will; a capon at that.
Meng, who was wanted by US federal prosecutors for fraud charges related to alleged Iran sanction violations, was arrested in Vancouver in December 2018.
Beijing has called it a political arrest by the former Trump administration, and repeatedly demanded she be released.