Jesse Watters on Texas synagogue hostage situation: 'There's a lot of suspicious things about this story'
Jesse Watters asked, 'This guy wasn't on your radar? Mr. President, you gave him a visa two weeks ago to come into this country.'
Jesse Watters expressed doubts over the possibility that the Texas synagogue hostage attack perpetrator was not known to law enforcement and said that some of the facts about the story were unclear, and potentially "suspicious," on "The Five" Monday.
"This guy wasn't on your radar? Mr. President, you gave him a visa two weeks ago to come into this country. What kind of visa was it? Did you vet him? Was he on a watch list? Usually, the Feds are all over these people," Watters said. "And then they do a raid immediately in England with associates or people affiliated with them. So Scotland Yard didn't know anything about this? MI6 had no clue about this guy?"
"This guy buys a hot gun off the street two weeks after he gets here? Who is the guy who he bought the gun from? They don't even know how he died. Who shot him? There's a lot of suspicious things about this story and a lot of unanswered questions. And hopefully, Joe has at least one of those answers in the next 48 hours because he should be asked about this."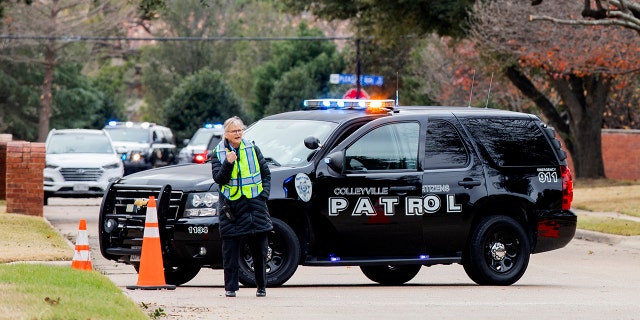 This Muslim Terrorist targeted the Jewish Community in Colleyville, Texas; a terrorist act that was not random, but planned beforehand. However, according to the FBI the holding of hostages at a synagogue was a random event.
"Failure of the FBI to understand this is something of a pattern with law enforcement in the United States and frankly in Europe," Marcus told Fox News Digital.
"It seems that time after time, we see law enforcement

officials fail to understand when an anti-Semitic incident occurs, even when it's entirely obvious,

" he said.
Marcus said DeSarno's comments were "not a mere slip-up" but are "symptomatic of a widespread failure with law enforcement to understand the problems of anti-Semitism and anti-Zionism."
Jewish leaders ripped the FBI on Monday and said the bureau "got it wrong" when they said the terrorist who took hostages at a Texas synagogue didn't make demands that were "specifically related to the Jewish community," reports said.
FBI Special Agent in Charge Matt DeSarno made the comments late Saturday when addressing reporters after four people, including a rabbi, were taken hostage at Congregation Beth Israel in Colleyville by British national Malik Faisal Akram.
DeSarno noted that Akram was specifically focused on Aafia Siddiqui, a Pakistani neuroscientist who was convicted in Manhattan federal court in 2010 of trying to kill US authorities in Afghanistan, and his primary demand was her immediate release from prison.
"We do believe from our engagement with this subject that he was singularly focused on one issue, and it was not specifically related to the Jewish community. But we are continuing to work to find [the] motive," DeSarno said.
Kenneth Marcus, founder and chairman of the Louis D. Brandeis Center for Human Rights Under Law, said "the FBI got it wrong" and the attack was "obviously a matter of anti-Semitism."
US Muslim leader calls on community to confront 'anti-Semitism problem'
Malik Faisal Akram's brother, Gulbar Akram, raised questions in a recent interview with Sky News about how his sibling, given his criminal record, would have been allowed to obtain a visa and enter the U.S.
The BBC reported, based on unnamed sources, that Malik Faisal Akram entered the U.S. two weeks ago through New York's Kennedy Airport. Fox News Digital has not independently confirmed with the FBI how Malik Faisal Akram entered the U.S.
"Yes, we Muslims living [in] North America undeniably have an increasing anti-Semitism problem and seemingly we have yet to even begin to address the issue honestly, morally and accurately," he wrote.
Abdullah Antepli.
Abdullah Antepli is a founder of the Muslim Leadership Initiative.
Twitter/aantepli
"But again we have to," he said, saying he was "really sick and tired of the over all defensiveness and tribal."
"We can no longer pretend the problems of anti-Semitism within us does not exist," he said, calling it an "alarming internal problem."
"We are better than this!"
Antepli singled out Muslims using terms including "the Benjamins" — an anti-Semitic trope that "Squad" member Omar (D-Minn.) used in 2019.
The progressive lawmaker later apologized for using "anti-Semitic tropes," insisting her "intention is never to offend" — but she has since been accused of other offensive messages.
Antepli — who did not single out Omar in his message — said that confronting such hatred was a "more urgent moral" call than worrying about the shame it would bring to his community.
https://abcnews.go.com/US/wireStory/report-hostages-apparently-texas-synagogue-82286234
QUESTIONS?
Where did he get the gun? How did he pay for it? Was there an accomplice? How did this guy fall through the cracks.
Who paid for the airline ticket?
Why was he allowed in  to the country without any monetary means of support or living accommodations? Who invited him? 
They should fire the custom agent who allowed this guy into the country 
They call him a British citizen. Why? He is a Pakistani immigrant. How long has he been living in England?
Brother said he has a mental illness. Don't they all?
C
AIR and other Muslim organizations say they don't preach violence; maybe so, but they PREACH HATE!