Will there be a Next Shoe to drop?

That is the question,
but what is the answer?

 Our Crystal Ball

,

which is a bit cloudy of late

,

will venture a hazardous guess.

Please be patient though

, myopia has afflicted our seances for some time.

However, we will go to the

Ouija Board

, the only true and tested way to extract the answer.
Guided by the Ouija Board

, paranormal intrusions, extra sensory perception,

our quest for the Truth has been revealed

.

BRANDEN

, has failed to defend Ukraine subsequent to the United States guaranteeing their Independence once their

NUCLEAR ARSENAL was Dismantle

d.
The Budapest Memorandum on Security Assurances refers to three identical political agreements signed at the OSCE conference in Budapest, Hungary on 5 December 1994 to provide security assurances by its signatories relating to the accession of Belarus, Kazakhstan and Ukraine to the Treaty on the Non-Proliferation of Nuclear Weapons.
On 4 March 2014, the Russian president Vladimir Putin replied to a question on the violation of the Budapest Memorandum, describing the current Ukrainian situation as a revolution: "a new state arises, but with this state and in respect to this state, we have not signed any obligatory documents." Russia stated that it had never been under obligation to "force any part of Ukraine's civilian population to stay in Ukraine against its will." Russia suggested that the US was in violation of the Budapest Memorandum and described the Euromaidan as a US-instigated coup.
Well it has happened! We find the Dog catching the Car; now what is he going to do with it? Blood has been shed, but it appears that КРАСНЫЙ (RED)Blood has been spilled in the INVASION.
Accurate counts aren't available, but those at the FRONT have reported that Vlad the Impaler's army has been impaled, suffering twenty eight hundred casualties. Tanks, planes and helicopters were either blown up, shot down or captured. The Ukrainian Resistance is Up To the Task. However,  President Zelensky wants to know where is Branden? Yebat' tebya Joe Biden!
Biden and Europe have so far refused to kick Russia out of the Society for Worldwide Interbank Financial Telecommunication (SWIFT) — a secure platform that allows communications between 11,000 banks and financial institutions around the world. Ask yourself why. Branden has no Balls.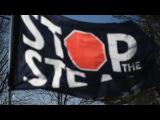 These are the GUYS WITH BALLS – DEFENDING THE HOMELAND NEWS
As this bloodshed of an INVASION, sanctioned no less by our incompetent leader, yes the one with the Yellow Pants, continues, many questions are asked. For instance, Why didn't NATO act? But we must go back in time to dig for answers. 
In todays Day and Age, how can a Tyrant, one with maniacal instincts, be allowed to conquer another country without any serious consequences? Why did the world stand by?
Hundreds of casualties have already been reported in the wake of the assault. Russian shells demolished apartment buildings in Kyiv and schools and bridges were also destroyed.
ВСУ на позитиве pic.twitter.com/DggOa6byAN

— Вашингтонский Обком (@_Fashington) February 25, 2022
The Back Story is as follows:
Russian President Vladimir Putin would not have invaded Ukraine had

President Trump still been in office,

a majority of Americans said according to the results of a new poll.
The survey released Friday from the Harvard Center for American Political Studies (CAPS)-Harris Poll found that 62% of Americans believed Putin would not have pulled the trigger if Trump were still president, The Hill reported.
The view was held by an overwhelming 85% of Republicans, but also 38% of Democrats. A further 59% of voters said Putin had decided to invade because Putin sensed weakness on the part of President Biden, while just 41% said that view had not played a role in Putin's decision.
The online poll was conducted between Feb. 23 and Feb. 24 and surveyed 2,026 registered voters.