Leningrad was choked during WW II

,
no food, the blockade saw to that

. Citizens boiled their shoes, ate the leather, not a rat was to be seen in the many labyrinths inside the city.
The siege of Berlin during WW II was a classic example of

asphyxiating

the enemy.
Russian army encircled the city and within a week, after constant bombardment fell to the Russians.
Today, the Ukrainians are in the same spot; are they going to become a Leningrad or Berlin. Every man, woman is on deck.

For they know that the Putin killing machine will execute the survivors Joe Stalin style

.

We see carnivores hungry for the kill.

Blood is their drink of choice, along as it is not their blood.

But sometimes what appears to be an easy victory is not so.
Fierce fighting by the Ukrainian army has halted the Russian advance. Supplies at the front are running low; something the Red Army hadn't counted on, supply chain (where have we heard that lately) problems. Putin didn't plan on Russian advance to be halted in its tracks creating a dilemma. This caused tanks, army vehicles to run out of fuel. Keep in mind the quality of Russian equipment, most of it is not battle tested. And their military-industrial complex consists of Vodka enthusiasts who relish a drink or two while on the job.
Quality and production suffers. We see that now. Equipment failure has brought consternation in Moscow. Putin is raging, tempers flaring about the deaths the Red Army is suffering. Wasn't supposed to be that way. This Invasion was to be over in twenty four hours.
Top Stories
Ukraine claims control of Kharkiv after Russian attack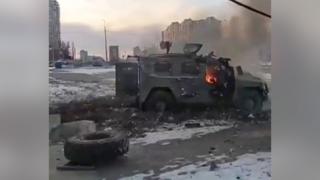 Russian forces entered Ukraine's second city but have been repelled, the Kharkiv governor says.
Top Stories

Ukraine claims control of Kharkiv after Russian attack

 WHERE IS BRANDEN
Zelenskyy seeking volunteers, calls for 'international' team to fight Russia
Zelenskyy is looking to form the International Legion of Territorial Defense of Ukraine
After four days of Russia invading his nation, Ukraine President Volodymyr Zelenskyy says he's growing frustrated with an apparent lack of international action — so he's seeking his own team of supporters, he announced.
Zelenskyy hopes to draw volunteers who will "defend Ukraine and world order as part of the International Legion of Territorial Defense of Ukraine," Ukraine Foreign Minister Dmytro Kuleba.
RUSSIA INVADES UKRAINE: LIVE UPDATES
Ukraine needs more equipment and

NOW

. NATO countries have an obligation to provide for their defense.

The U.S. has to step up their game.