AOC slams SCOTUS abortion decision, says
women will die

and

too many children already in 'poverty

'
She went on to argue that the state has a high maternal mortality rate and children living in poverty, saying

"forcing women to carry pregnancies against their will, will kill them

."
Did AOC ever hear of the "morning after pill?"

How about raincoats, they provide protection too.
One Minor thought, she doesn't want more Democrat voter? Seems to me, those are the ones that got her elected. This truly is an oxymoron.
Georgia's Democratic gubernatorial nominee Stacey Abrams on Sunday refused to say whether she believed there should be restrictions on abortions or whether she believed abortion was acceptable all the way up to nine months, saying it is a "medical decision" and shouldn't be political.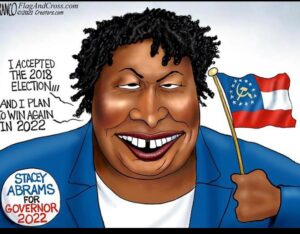 Abrams was pressed during a "Fox News Sunday" interview to respond to the Supreme Court ruling overturning Roe v. Wade on Friday and whether she believed there should be any limitations on abortion.
"I believe that abortion is a medical decision. And I believe that that should be a choice made between a doctor and a woman and in consultation with her family," Abrams said. "But I think the challenge that we have is that we keep putting this in a political space. This is a medical decision. And the medical choices that should be made should be governed by what is best for that woman. And what is the best suggestion of an advice of their doctor."