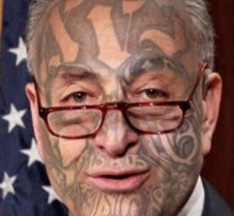 Come senators, congressmen
Please heed the call
Don't stand in the doorway
Don't block up the hall
For he that gets hurt
Will be he who has stalled
The battle outside ragin'
Will soon shake your windows
And rattle your walls
For the times they are a-changin'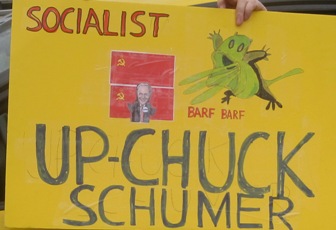 A few of the rabble rousers have taken it upon themselves to warn Chuck Schumer. The warning is simple, "your days are numbered." Like AOC taking the reins from an old hag, we are 100% certain that Senator Chuck will meet his match in the next election.
This brings us back to the old days, you remember the song, The Name Game by Shirley Ellis.
It goes like this :
Come on ev'rybody, I say now let's play a game
I betcha I can make a rhyme out of anybody's name
The first letter of the name
I treat it like it wasn't there
But a "B" or an "F" or an "M" will appear;
And then I say "Bo" add a "B" then I say the name
Then "Bo-na-na fanna" and "fo"
And then I say the name again with an ""f" very plain
Then "fee fi" and a "mo"
And then I say the name again with an "M" this time
And there isn't any name that I can't rhyme
They will have fun using Chuck as the name.
When all is said and done, Chuck will be made to "EAT IT" just like the Republicans made Pelosi "eat it."