The 70's was noted for change; one remarkable prediction was the global cooling controversy on the back of the 1950 prediction of global warming. But today we are on to their scheme. The tree huggers have one objective, to tax you to death. Going back to yesteryear we find many polyglots who speak with forked tongue. The credibility is questioned on several fronts. For instance as we enter 2018 in the  deep freeze, the answer to the question is "Why so cold?" Of course we know the answer, global warming/climate change is to blame. However, nothing is further from the truth. This is not a proven science.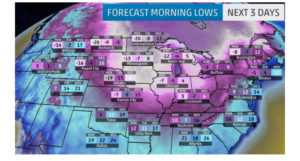 But to them, the East Anglia hallucinogenics, it is. Manipulation of weather data ended in what was known the Climategate affair.
1975 National Academy of Sciences report 
There also was a Report by the U.S. National Academy of Sciences entitled, "Understanding Climate Change: A Program for Action".
The report stated, "The average surface air temperature in the northern hemisphere increased from the 1880's until about 1940 and has been decreasing thereafter."
It also stated that, "If both the CO2 and particulate inputs to the atmosphere grow at equal rates in the future, the widely differing atmospheric residence times of the two pollutants means that the particulate effect will grow in importance relative to that of CO2."
The report did not predict whether the 25-year cooling trend would continue. It stated that, "we do not have a good quantitative understanding of our climate machine and what determines its course [so] it does not seem possible to predict climate," and "The climates of the earth have always been changing, and they will doubtless continue to do so in the future. How large these future changes will be, and where and how rapidly they will occur, we do not know."
CHICAGO (CBS) — A man found in his vehicle Tuesday morning in the West Side Austin neighborhood marks the third cold death of the season in Cook County.
The 62-year-old man was found unresponsive in his vehicle at 8:36 a.m. in the 1000 block of North Mayfield, according to Chicago Police and the Cook County medical examiner's office.
Questions for those who are experiencing the freeze; what do you think of global warming now?