The illegal alien debate has raged now for more than a decade, but has now come to the fore with Donald Trump stating that he will send them back to Mexico. Secondly, he will build a wall, Mexico will pay for it, to keep the trespassing criminals from violating our country. What they do is akin to rape. Contrary to what others think, the deportation of these criminals (Democrats call them undocumented – all lies) will cause the economy to boom; those seeking menial type work will find it and get well paid for doing it. This will be due to the lack of supply of cheap labor that finds the demand robust. As Trump said, "Make America Great Again."  This will happen when he is elected President. "So let it be written, so let it be done."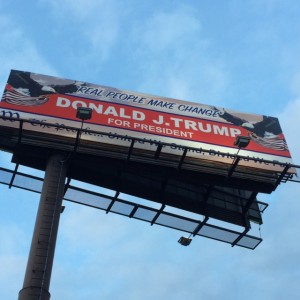 From the Drudge Report. Boston Globe is releasing a fake front page in Sunday's edition of Trump on Day One, calling for the deportation of the illegals.
What is the media scared of? Why are they doing all they can to derail his campaign? The liberal media is once again showing their true blue colors; trying to brainwash through propaganda the American people. There is no other reason, look back eight years ago, they didn't call Obama out because they knew first hand he was one of them, a socialist out to destroy the fabric that made America great.
Effectively, America, with the media's hype, helped elect Obama, a Jihadist in sheep's clothing, to the highest office in the land. To keep the Obama message upfront, they are doing very little calling for Hillary (the Liar) to step down, who ostensibly will carry on the mission, but Trump who didn't kill four of our guys in Benghazi is persona non-grata.  Go figure!