Did you notice the subtle change in your neighborhood? Foreigners walking the streets at all hours, many of them Middle Eastern types that stand out like a sore thumbs; wearing apparel akin to bath robes or pajamas. Do you wonder what these people are thinking, why they pray five times a day, are you suspicious of them?
Why are they here in the first place? They hate what we stand for; why come to America? Are they plants, lone wolfs, suicide bombers in waiting?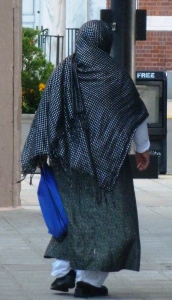 Who brought them here? Are they illegal aliens? What foreign lands did they come from?
Britain and France have experienced such an influx. After decades these foreigners have not assimilated into their Western Christian Culture, this is anathema to them. Did they come for financial reasons? Why are so many on the dole?
By dressing in burqas and hijabs do they pose a threat, do they incite? It seems that the French think so. France has outlawed face covering since 2010, this includes  masks, helmets, balaclavas, niqābs, including the burqa
To many of Westerners, dressing like this is confrontational. It sends a message that they will not assimilate into our culture. They become adversarial with their demands. Others say that this is what America is all about. Wrong! Assimilation in language, culture and dress is what brings us together. Outrageous behavior does not. Failure to transition into the mainstream will keep them looking in; outsiders they will always be.
We still wonder why the Saudis, Egyptians, Jordanians, Kuwaitis, Qatar and the Emirates have not taken them in. Do they know something we don't?