Eight years in office with nothing to show for it. Oh he will tell you that Obamacare is his signature achievement; well sorry to say, but come next week America will kiss it goodbye. Please don't insult us Mr. President because Americans know all too well that Obamacare was instituted by Democrats and Democrats only to lasso potential voters of the Democrat persuasion.
We know how socialism works, once people are dependent on government there are very few indeed who will jump ship. Why stop the gravy train? That's what it is all about. One hand washes the other, a power grab by the political elite. But when the music stops, as it did in Venezuela, the people become a little unruly, antsy we might say. Good thing you only were allowed eight years, America could not put up with the damage you would have done in another four. You see, Americans are much smarter than you think.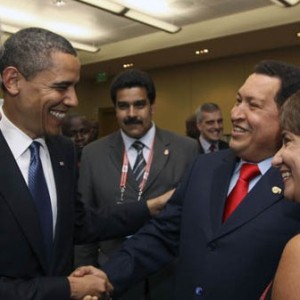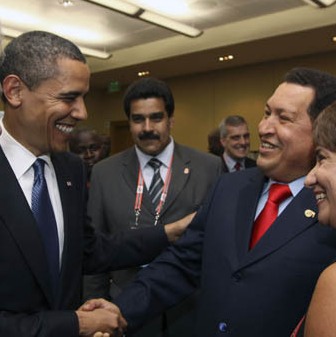 You see that guy in the background, his name is Maduro, the now president of Venezuela. A true commie like you, excuse us, a socialist. Pardon us for mixing the two up. Your ex-head of the DNC, Wasserman-Schultz, may she rest in peace, said or implied or couldn't answer the question of what the difference was between a Democrat and a Socialist. She choked up. Like Hillary choked up on your dime. See, people have had it with parasites, liars, leaches, illegals, divisive politics and all that stuff you are for.
We hear you are staying around for a couple of years. That's nice! It is about time you get a first hand look at the Capitalistic Machine in action. Many of your Washington pals will be begging you for help. They will have their hands out. See Trump knows who they are and is not afraid to tell them that there is no free lunch. Also he will tell them to get lost. And your lackey Holder, he hooked up with Governor Moon Beam; the two make a whacky couple. BTW Holder has taken the cream off the top to the tune of $300 big ones and that is for his mind.  His job, recommending and consulting on suing Uncle Same when the time comes.  Trump will send in ICE, round up the illegals and march them back across the border. Some will be made to swim. Expect Holder to speak out for the illegals. Gee whiz, a man of the Constitution, like you, who does not know what the word "ILLEGAL" means.
Last but not least. Representative Lewis from Georgia went Tongue Loose. All kinds of rubbish from his mouth. He doesn't like the result of the election and calls Trump an illegitimate president. Matter of fact many of the socialist bottom feeders were and are quite upset about the Trump landslide. Thank you for making it all possible. These malcontents are on a rampage, having hissy fits. We expect to see them in Washington on Friday. However, the Trump riot police will be there too.  This type of behaviour is expected from spoiled rats, sorry we mean brats. We can't recall this type of action back in 2008 and 2012.
Well, President Obama,

THANK YOU FOR SERVING

, thank you for Obamacare and thank you for backing Hillary.

WE WILL MAKE AMERICA GREAT AGAIN without your help

. YOU'LL SEE.