Newly revealed text messages between FBI paramours Peter Strzok and Lisa Page include an exchange about preparing talking points for then-FBI Director James Comey to give to President Obama, who wanted "to know everything we're doing."
The message, from Page to Strzok, was among thousands of texts between the lovers reviewed by Fox News. The pair both worked at one point for Special Counsel Robert Mueller's probe of alleged collusion between the Trump campaign and Russia.
Page wrote to Strzok on Sept. 2, 2016 about prepping Comey because, "potus wants to know everything we're doing." Senate investigators told Fox News this text raises questions about President Obama's personal involvement in the Clinton email investigation.
In texts previously revealed, Strzok and Page have shown their disdain for Republicans in general, as well as Trump, calling him a "f—ing idiot," among other insults.
DOJ MUST CHARGE THESE INDIVIDUALS WITH OBSTRUCTION OF JUSTICE
The Obama administration filled its coffers with criminals from A to Z. Obama called on Lois Lerner to deny, delay and refuse to process Tea Party tax exempt applications. Koskinen was in contempt of Congress for his failure to provide IRS records including  emails relating to Lerner's cover-up. Remember that she took the fifth; guilty as charged.
Holder, a gun runner provocateur, responsible for the killing of our border agent Brian A. Terry, 40, was killed northwest of Nogales, Ariz., on Wednesday, Dec. 15, 2010. by a AR-15 that Holder sold to a drug gang. Fast and Furious was the undercover operation; guilty as charged. 
Loretta Lynch was whipped hard by Slick Willie on that tarmac in Arizona. He gave her an option, "shut up" or "your brains will be splattered on the tarmac." Lynch laid down like a cheap whore. This encounter and its suggestion of conflict of interest led FBI director James Comey to take the unorthodox step of holding a press conference on July 5, 2016, where he announced that the bureau's investigation of Hillary Clinton's use of a private server would not result in a recommendation to the Department of Justice to indict her. Comey later recalled that Attorney General Lynch had directed him not to call the investigation an "investigation" but instead to call it a "matter." A direction, Comey said, that "confused me and concerned me." both her and Comey are guilty as charged.
Fusion GPS was an arm of the Democrat Party and also colluded with members of the FBI. "It is troubling enough that the Clinton campaign funded Mr. Steele's work, but that these Clinton associates were contemporaneously feeding Mr. Steele allegations raises additional concerns about his credibility," Grassley and Graham wrote in the Jan. 5 referral. The Democrat National Committee (DNC) hired and paid for information (the Dossier) that was the basis for a Foreign Intelligence Surveillance Act (FISA) court order to spy on the Trump campaign. Carter Page was the targeted guy. But as it turned out the closet was empty. The information put forth on getting the FISA order was nothing but hearsay and innuendo. However, we must be reminded that Hillary Clinton controlled the DNC and most likely ordered her phalanx of soldiers to get TRUMP anyway you can.
Key DoJ official's wife gathered opposition research on Donald Trump for Fusion GPS
Nellie Ohr was on Fusion GPS staff
Her husband, Bruce Ohr works at the DoJ and presented that info to FBI officials
Under a contract from the Clinton campaign, the Fusion GPS research firm was paying the wife of a senior Department of Justice official as part of its efforts to gather opposition research on Trump, and the same official then brought that research to the FBI.
Knowledge of the relationship has raised questions about the extent to which the firm may have paid for heightened access to the criminal justice system, and whether they would have hired Nellie Ohr absent her spousal connection to the DoJ.
A declassified memo said Bruce "Ohr's wife was employed by Fusion GPS to assist in the cultivation of opposition research on Trump. Ohr later provided the FBI with all of his wife's opposition research, paid for by the DNC and Clinton campaign via Fusion GPS. The Ohrs' relationship with Steele and Fusion GPS was inexplicably concealed from the" court when it was used to obtain a surveillance warrant.
"LOCK HER UP"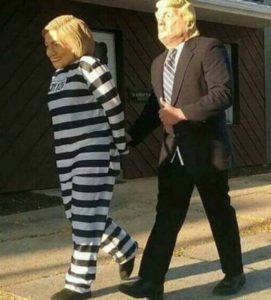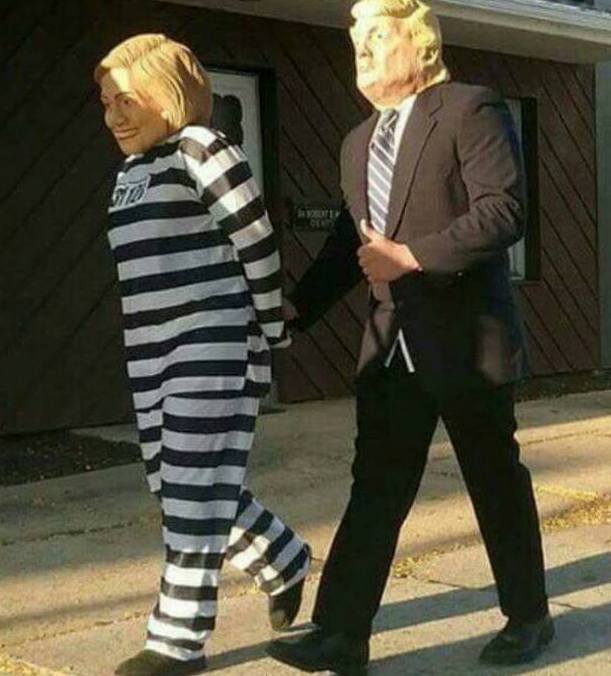 EXCLUSIVE: Adam Schiff sent his staff to try and collect 'classified materials for the FBI' after Russian pranksters told him Putin has NAKED blackmail pictures of Trump 
Russian Hustle grabs Adam Schiff 
Adam Schiff, the ranking Democratic member of the House Intel Committee was recorded speaking to Russian pranksters who spun elaborate 'kompromat' tale
He told Vocan and Lexus, two radio pranksters who have also hit Nikki Haley, that he would pass their claims to the FBI in a call made last year
The duo posed as a fake Ukrainian politician to say Trump had sex with Russian glamour model Olga Buzova after a Miss Universe pageant in 2013
In the call they said Putin had been passed naked pictures of Trump and now-president had used secret codes for talks with Russians
Duo gave emails to DailyMail.com which showed Schiff's staff trying to arrange to collect 'classified' documents from Ukraine's embassy in D.C.
Schiff's office claimed he was not fooled by the call and reported it to 'authorities' but did not explain why his staff kept up correspondence 
Call posted in April 2017 surfaced as Schiff waits to see if Trump will declassify his Democratic version of the Devin Nunes memo which shamed the FBI
Read more: http://www.dailymail.co.uk/news/article-5355713/Adam-Schiff-spoofed-Russian-claim-nude-Trump-pic.html#ixzz56Q5gox4I
Follow us: @MailOnline on Twitter | DailyMail on Facebook