What happened to the counterfeit $20 bill? We want to know! So does everyone else. Where did Mr Floyd, who by the way was turning his life around. Did we have "MOB JUSTICE", a need to convict because of the ramifications of a "not guilty" verdict?
The settlement of $27,000,000 paid to the family of George Floyd was stratospheric. Did it come with any caveats? Like your family must payback any federal or state funds previously received, in addition to never applying or receiving government funds ad infinitum. Just Wondering about this.
As we previously posted, we wanted to see justice served. So be it, the jury concluded that a conviction on all three counts was warranted. But it is not over until it is over. Expect an appeal based on external influences that may or may not had an effect on the verdict. For now let Mr. Floyd RIP.
Hannity weighs in on the case. Chauvin guilty as charged. Pressure on George Floyd's neck resulted in his death.
Please check the following take on the Floyd killing. Also note, the defense attorney put everything in PERSPECTIVE. What he meant by that is one person's PERSPECTIVE can be different from another person viewing the same situation from a different perspective. But what they PERCEIVE can also be entirely different even if they had the SAME PERSPECTIVE. Your perspective is the way you see something, the way you view it from your position. PERCEPTION is the way you INTERPRET what you view or assess what you see. Your interpretation of sensory information in order to represent and understand the presented information; this could be 100% different from the way someone else interpreted the same observation.
They Convicted an Innocent Man – Paul Craig Roberts
However, we out the provocations of bomb throwers who are Racists in their own right. They harbor a resentment against White America, the marrow in their bones have racism running through them. At every turn they call for destruction, for killing of Whites. It is them that you have to watch out for because there exists millions more who have the same thoughts, they are currently stealth, but you have seen them in action.
The like of Lebron James who took down a tweet because he didn't have the cajones to face the music. "YOUR NEXT" referring to Ohio cop who shot and killed Ma'Khia Bryant. Threatening a police officer is a serious crime worthy of arrest. It means intent, it calls for others to act in your behalf. Serious stuff. James should be arrested for this threat against a law enforcement officer. James tried to backtrack his comments, but you can't.
Back to the Village Idiot, she has incited her flock to violence. Why no pushback? Why no censure? We will tell you why. The Democrats who rule the House have no spine. They are guilty too by endorsing this BLM aficionado. Traveling to Minnesota, Rep. Maxine Waters called on protesorts to "get more confrontational." She is a very mad person, filled with deleterious venom.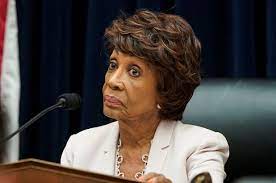 https://nypost.com/2021/04/21/lebron-james-deletes-tweet-on-makhia-bryant-police-shooting/