A violent activist elected by the the welfare monger, those seeking handouts, the irresponsible, continues to spill excrement from her big trap. Yea, you know who we are talking about. This barbaric disgusting varmint was at one time an assistant teacher under the head start program. She then got a sociology degree from a Los Angeles State College. Not Stanford, Yale or Harvard by any means. Many wonder how she even got into college. She is living proof that a birds brain can be twenty times bigger than a humans. How do we know that? Listen to her vicious comments, they border on insurrection, treason, and anti-American diatribe. This is proof enough. She has instigated the plantation workers into riot stance.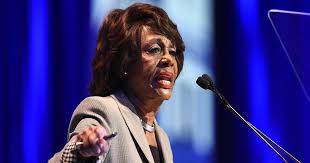 "You have to push them back", turn on them", referring to members of the Republican party, Senators and Congressman, supporters of the greatest President since General George Washington. That type of talk is seditious, treasonous. She is instigating the dregs of society to riot, to cause mayhem to kill, murder, rob, rape, steal, bomb and bring down America. But she has gone over the top, joining the protestors to riot, revolt against the police. She calls the cops who target Blacks as racist. Where is the proof. She calls for confrontation.
CLICK HERE FOR THIS LAME BRAIN TELLING JIM JORDAN TO "SHUT UP" A class act of pure trash, she belongs in the garbage bin of history.